Haiti Biofuels Update (4/19/2008)
Posted on:

19 April 2008

By:

Bryan Schaaf

With the Prime Minister of Haiti having been voted out as a result of the recent food riots, expect biofuels to get put on the backburner for a while – at least as far as the government is concerned.   The new Prime Minister will need to assemble a new Cabinet and we hope that the Ministers of Finance, Agriculture, and Energy will all take a close look at the potential of biofuels.  In the meantime, the non-governmental organizations keep working away.  A successful war on poverty in Haiti must be fought on different fronts at the same time, chief of which are food security and energy independence.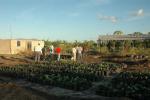 The Rome Foundation (RF) continues to be an advocate for Jatropha cultivation in Haiti.  Recently, their representatives presented at the Going Green Tampa Bay Expo.  They discussed volunteer opportunities, displayed jatropha plants, and showed samples of biodiesel.  RF continues to support and expand a Jatropha nursery in Southern Haiti.  Their pilot nursery is a partnership with  Georges Valme, one of Haiti's Jatropha pioneers.  Valme is the foudner and owner of  Share, S.A. which RF has identified as the Haitian leader in Jatropha nurseries and local cooperatives.   Share is based in Miami and in Port au Prince.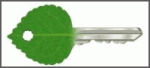 Also worth noting, RF also had a booth at Ecobvious, a new site/forum in the Tampa Bay Area dseigned to bring together like minded people to discuss green products, companies, and solutions.  Take part in online discussions by visiting their site here.

Eric Kroh is a Chicago-based journalist who writes and creates multimedia content about biofuels and the environment.   He wrote an article on biofuels in Haiti in Biodiesel Magazine.  His article focuses on the work of Joe Foss and Steve Roberts, who oversee Haiti Biodiesel, a nonprofit organization with the mission of improving Haiti's economy.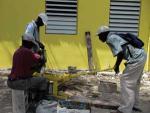 In Kroh's article, Robert states  "I got involved with biodiesel because some of the people I knew were driving biodiesel [powered] cars...Jatropha has natural advantages for Haiti in that it grows on marginal lands, it's a nonfood crop and it's native to that part of the world."  His group is working with the Integral Rural Development Organization, or ODRINO which is based in Northwest Haiti.  Kroh goes on to nore that in March, they produced a test batch of what they believe to be the first biodiesel made from jatropha in the country.   With gasoline selling for six dollars a gallon in Haiti right now, there is a demand for a home-grown, more affordable alternative.  Small pilots such as these can be scaled up, provide a much needed product, and create jobs at the same time. 

The piece then states the organization hopes to serve as a center for jatropha education and research.  The membeers would like to teach other farmers how to grow jatropha, cultivate it, collect the seeds, and then press the oil in small presses they have purchased with loans.  ODRINO will buy the oil and process it - the oil could be used for cars, lighting, generators for private homes, health care facilities, schools, etc.    The opportunities for partnerships are enormous.
This is especially important considering that Haitian farmers are struggling to feed themselves with smaller and smaller plots of land that are becoming more arid as erosion and deforestation run their course.  Jatropha is a tough plant that grows well in arid envrironments and on steep mountain slopes - no small thing as Haiti is mostly mountainous.  It may be useful for preventing erosion and, as a natural fence, it could be planted together with, rather than competing against, food crops.   Roberts hopes that jatropha could double the current income levels of Haitian farmers.  Should that happen, there will be incredible demand to take part.  A successful innovation like this can spread rapidly.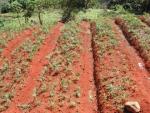 Something I found interesting from the article is that one acre of jatropha (seeds being 40% oil) could produce about 200 gallons of oil.  This is four times as much as soybenas. The article notes that palm oil has a better yield per acre, but palm trees only grow in rainy climates.  Jatropha would thrive in aris soil like Haiti's.  
Kroh interviewed Kathleen Robbins, the director of clean energy at Phoenixville, Pa., based Green Microfinance LLC, which promotes environmentally sustainable microenterprises around the world.  Robbins founded Jatropha Pepinye, a non-profit Haitian business in Terrier Rouge, a community in Northeast Haiti (and interestingly also the only community in Haiti where eating horse is socially acceptable).  Robbins emphasizes the only way a biodiesel industy will develop in Haiti is if it includes the participation of the small farmer.  As he puts it, "The idea is that the small farmer participates in the revolution and doesn't end up working on a large plantation for a dollar a day."  Although I wonder if this might be the opportunity for Haitian farmers to go back to their communal roots and work the land cooperatively, as used to be the norm long ago.

Kroh points out that Jatropha Interbanx SA, a subsidiary of Houston-based Interex Global LLC, was approved for a grant by United States Trade and Development Agency to "research the commercial feasibility of jatropha-based biodiesel production in Haiti and to establish jatropha-growing cooperatives."   The article states that the company will create a jatropha center  north of Port-au-Prince to serve as a model farm and education centers for local farmers. Their ten year target is to establish 10 regional jatropha farms with a total of 494,000 acres.  Back to partnerships, apparently Interex Global is talking with Caterpillar Inc. about testing and developing equipment to run specifically on biodiesel made from jatropha.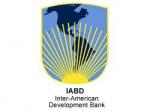 Toward the end of the article, Carla Tully an investment officer at the Inter-American Development Bank notes that when something works in Haiti, the rest of the world tends to take notice.   It was the exact same thing with Directly Observed Therapy for HIV/AIDS and TB.  When Haiti excels at something, with all the challenges it faces, other countries feel they can try and succeed as well.   She notes there may be opportunities to partners with the Dominican Republic and to improve cross border relations.  Both countries need energy indepdence and they could work together to bring this about for the benefit of the island.
Congratulations to Eric Kroh for a very well done and informative article on how jatropha can build the agricultural sector, economy, and help Haiti stand on its own two feet again.
The only other item I wanted to bring up is that I received an invitation from the Confederation of Indian Industry to attend  "Biofuels India 2008: Emerging frontiers of Technology, Investment & Market prospects".  This International  Summit on Biofuels will take place August 22-23, 2008 at Hotel The Grand, New Delhi - 110070, India.  It is not exactly easy to pop over to New Delhi for a weekend, but India has a lot to offer as they have been involved in Jatropha cultivation for longer than the countries of the Western Hemisphere.  If you cannot attend, keep your eyes out for a writeup of the conference.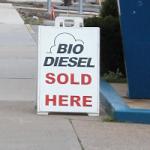 According to the invitation, "The Summit is expected to bring together senior representatives from Government, leading national and international Biofuels Manufacturers & Service providers, Financial Institutions, Premier Academic & R&D institutions, Multi-lateral agencies and other expert professionals on Biofuels business"  For more information, click on the Biofuels India Website.  
Here is the Point of Contact for the Event:
Pramod Chaudhari
Chairman - CII National Committee on Biofuels and
Chairman Praj Industries
Confederation of Indian Industry
23,Institutional Area, Lodi Road
New Delhi –110003
Phone: -91-11-24622228 (D) 24629994-7
Fax: - 91-11-24615693   
Email: - pramod.chaudhari@ciionline.org    
We'll keep you posted of any new happenings!
Bryan