Gustav, Hanna, Ike, Anmwe!!!
Posted on:

3 September 2008

By:

Bryan Schaaf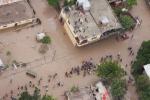 Back in June of this year the National Hurricane Center at NOAA predicted an abnormal season with 17 to 18 storms in the Caribbean and 5 to 6 of those would have the potential to be major hurricanes. With the recent passage of Gustav and the pounding rains of Hanna and Ike and Josephine creeping closer, unfortunately the prediction is wreaking havoc on Haiti.
An abnormal season or not the consecutive passing of just a category one hurricane and one tropical storm passing north of Haiti has proven too much for this deforested country to absorb. The result, yesterday's flash floods in the middle of night in the towns of Jacmel, Gonaives, the Grand Anse and Nippes departments with untold scores of families who losing homes, crops and their already meager possessions. Certainly we can expect this disaster to greatly impact the food crises that gripped the country in April. As well as add fuel to the fire of the hurricane-postponed protests interupted last week.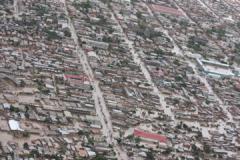 The official reports from the government on deaths since Gustav and preliminary reports from Hanna's rains last night are approaching 80 and likely to climb much much much higher in the coming days, possibly into the 100 and more. But the response is still hampered by the bad weather, limited access to affected populations and lack of information about the damage.
In the capital today there was a lull in the rains only to be replaced by 80-90 mph winds that tore down electric polls and wires, uprooted trees and stripped back tin roofs. Tonight the rains are not letting up and the deaths and damage continue to rise with the rivers.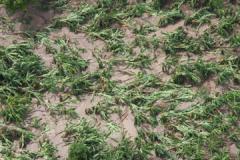 There was promise at the beginning of the season as Haitians were employed in preparedness programs that cleaned canals and gutters that have been clogged by debris for what some could imagine was decades. But the weather has been relentless and it seems against it little can be done until it eases. And only then, nap wè longè koulèv la. Let's just hope it's not too long.