Extra! Extra! Bourik On Street!
Posted on:

13 February 2008

By:

Bryan Schaaf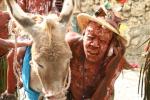 Bourik On Street is your number-one source for on-the-ground coverage from Haiti. Bourik will deliver the real scoop by talking to real people living in Haiti-- from corrupt shoe-shine boys to honest politicians, from wasteful market women to penny-pinching prostitutes, from people with three cell phones to voodoo priests with 26 children.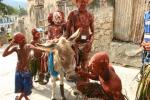 As you probably know, "Bourik" is the Kreyol word for donkey. Donkeys are, of course, stubborn, and Bourik refuses to stick to writerly conventions like a "theme." At times, his conversational meanderings may lead to profound revelation; just as likely, they will be completely useless to everyone but himself. Jackass that he is, Bourik may sometimes seem tasteless-- prying into the lives of the innocent and asking offensive questions. But sensitivity is relative. This is axiomatic for an ass, and also in a culture where, if you're fat and ugly you're called fat and ugly, and laughter is the heart of the street. Join Bourik as he discovers what Haitians really think about Zombies, their lives, food, presidents, how anyone knows which goat is theirs, lazy Dominicans, why 20 and 30 somethings dig gas stations, and Haitian thoughts on American football.