Encite Capital Launch Party (7/25/2013 - Washington DC)
Posted on:

15 July 2013

By:

Bryan Schaaf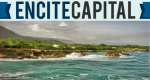 Encite Capital is a new non-profit organization with the objective of supporting small business development in Haiti with an emphasis on agribusiness, manufacturing, and alternative energy. The official launch party will be held on July 25th from 6-8pm at the Hillyer Gallery in the Dupont Circle neighborhood of Washington DC. To learn more about Encite Capital, check out their website or connect with them on Facebook, Twitter, or LinkedIn. More information follows.
Encite Capital is a nonprofit impact investment fund that supports small and growing businesses in Haiti to drive job growth and reduce poverty. We achieve our mission by supporting small organizations with appropriate financing, dedicated consulting, and expert mentoring.  We're driven by the belief that everyone is capable of greatness, but achieving one's full potential requires technical and financial support. Therefore, we complement any financing with management training and mentoring.
Our co-founders have more than twelve years of experience working on Hispañola with organizations such as Fonkoze, Partners in Health, the Peace Corps (DR), The UN Special Envoy to Haiti with Bill Clinton, Lepoard Capital, and Ashoka in Haiti. Co-founder Claire Pierre, MD, was born in Haiti and consults with the World Bank. After co-founders Kaveh Azimi and Aaron Arnoldy served two years as Peace Corps Volunteers in the Dominican Republic, each stayed to work with Fonkoze in Haiti and with corporate social responsibility project in the DR thereafter. Each went on to complete a graduate degree at Harvard.
We're celebrating the start of operations in Haiti with our Launch Party in DC. On July 25th from 6-8pm at the Hillyer Gallery in Dupont Circle we're joining friends, supporters, and development and impact investment professionals who share our passion to fight poverty through business innovation. We'll enjoy drinks, hors d'oeuvres, and have a silent auction with gifts from Haiti and the DR and more.  If you would like to learn more about Encite's work or to offer suggestions or connections, you're welcome to reach out to us directly via Facebook or Twitter. We'd be happy to hear from you.
Jonathan Welle