Electrifying Haiti: Lighting Up Pignon
Posted on:

7 May 2008

By:

Bryan Schaaf

Our friends at Current sent us a link to a piece concerning a town in the Upper Central Plateau of Haiti called Pignon.  Pignon is an isolated community best known for its regional hospital.   The road leading to Pignon is one of the worst in Haiti - The last time I was on it, the pickup truck literally tipped over.   But even in the most difficult locations, when a community comes together, it can accomplish amazing things.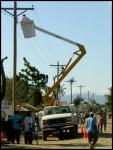 When there is electricity, students can study.  With electricity, there is an alternative to using wood charcoal as the main source of fuel.  With electrictiy, people have more options.  In the United States, we just take it for granted. All we have to do is flip a switch and we know it will be there.   If not, we will be very upset.   This piece is an interesting illustration of how communities can, as opposed to waiting for the central government to address their problems, come together to find solutions.  To view this short, interesting piece click here.

Current has a number of other Haiti related clips on their site as well.  To watch a World Food Program distribution click here.   For a clip of Cite Soleil at its hottest, click here.  For a clip concerning malnutrition in the northern portion of the country, click here.   For a clip on Venezuelan food aid and all the string that entails, click here.  An interview with a Brazilian peacekeeper in Haiti can be found here.   A video on Restaveks (child slaves) can be found here.   And there are many others as well.  Enjoy!
Bryan