Does a World Without Poverty include Haiti?
Posted on:

30 March 2008

By:

Bryan Schaaf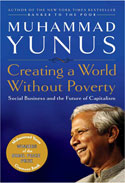 Easily the greatest benefit of living, working and studying in Washington, D.C. is the opportunity to meet incredibly passionate people who are making a real difference in the world. If you stay here long enough, you learn that circumstance is as much a contributor to institutional change as innovation and intellect. The people who are truly enacting solutions to social issues are as successful at generating new ideas as they are at advancing the communications strategy that proves its relevancy to the world.
I recently had an opportunity to meet a social innovator who is leading the effort to alleviate poverty in developing nations. Muhammed Yunus, founder of Grameen Bank and winner of the 2006 Nobel Peace Prize, is proving that the idea is only as good as the message that surrounds it. He is, as far my admittedly limited understanding of international development is concerned, onto something that sounds awefully good. Social business, or business that is community or donor-owned and returns all revenue to the business for expansion, is alleviating poverty, empowering people, and providing services to underrepresented communities with little or no voice in the decision-making process of their respective countries.
All readers of Haiti Innovation should read Dr. Yunus' new book, Creating a World Without Poverty: Social Business and the Future of Capitalism. In it, Dr. Yunus explores the idea of social business- a new way of looking at business development. According to Dr. Yunus, a social business is launched through capital from a donor or community. Unlike philanthropic gifts, however, a social business pays the principal of its loan (adjusted for inflation) back to the donor, who can either reinvest in the company or use his money to fund another social business. The result is a company that expands and provides services more efficiently in perpetuity. As revenue is received, it is completely reinvested in the company, instead of going to shareholders as would occur in a traditional public or privately held firm.
The idea is a good one, but I thought it a bit too unrealistic until I heard Dr. Yunus deliver the message himself. He is an unassuming figure, decked out in signature Grameen check digs that serve to promote a Grameen industry while lending him an aire of commonality with non-Nobel Peace Prize laureates. He also speaks in the hushed tones of a PhD economist that developed his ideas through hard fiscal analysis and academic commitment. You know he knows what he's talking about.
Dr. Yunus is upfront in his delivery. He makes it clear that social business has serious potential, but does not go so far to say it is the answer to eradicating all poverty. Some businesses, he says, will not or can not subscribe to the social business model. GDP will always need to grow, but we're ignorant to the ways of the world if we don't at least consider social business as one more weapon in the fight against global poverty.
It's a good idea that is being paired with a great delivery and already achieving results in Bangladesh as well as several other developing and industrialized nations. I urge you to read it, and maybe post some ideas about how such businesses could be developed in Haiti.