CARICOM Prepared to Help Haiti Integrate in 2009
Posted on:

10 December 2008

By:

Bryan Schaaf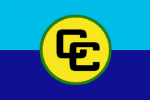 Caribbean 360 carried an announcement that, by early next year, Haiti will have taken a step toward closer integration into the Caribbean Community (CARICOM) Single Market and Economy.  As part of this deal, CARICOM will carry out public education campaigns to educate Haitains about CARICOM and to educate other Caribbean countries about Haiti. The expansion of Digicel, the largest company in Haiti, shows the potential of the private sector in Haiti.  Haiti needs trade more than it needs aid and I hope regional integration will help create much needed employment.  
PORT-AU-PRINCE, Haiti, December 10, 2008 - Haiti will take part in at least one component of the Caribbean Community (CARICOM) Single Market and Economy (CSME) by early next year.  Ambassador Earl Stephen Huntley, Director of the CARICOM Representation Office in Haiti, said that that Caribbean nation is in the process of revising and developing legislative frameworks to facilitate its participation in free trade in goods under the CSME. He noted that by January 2009 bureau of standards would be established in Haiti as the country prepared to participate in its first segment of the CSME during the first quarter of next year.
 
The CSME also provides for the free movement of services, people and skills, and the right of establishment of business entities within the Community, and Haiti's participation will increase the size of CARICOM's market to an unprecedented 15 million people. Ambassador Huntley told those attending the Third Meeting of the CARICOM Commission on Youth Development on Monday that a comprehensive plan was being implemented by the CARICOM Secretariat in partnership with the Canadian Inter-Development Agency (CIDA) which would support Haiti's development, reintegration in the Community and full participation in the CSME.
"As part of this development programme, the CARICOM Secretariat is also helping to build capacity through training in several aspects of Haiti's public sector to strengthen the country's ability to participate fully in the CSME," a release from the Secretariat said.
Ambassador Huntley pointed out that the CARICOM Office in Haiti would also spearhead the implementation of a public education programme that should not only assist Haitians in understanding the Community better, but also to assist the other member states in understanding the reality of Haiti, thus dispelling negative perceptions about the country.
"We are one and must work together to build the ties of brotherhood between Haiti and the rest of the region; ties that history had severed," the CARICOM official said.