Ban Ki Moon and Bill Clinton Visit the H.E.L.P Haiti Center
Posted on:

11 March 2009

By:

Bryan Schaaf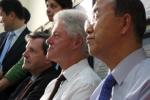 The Haitian Education and Leadership Program (HELP) provides merit based scholarships to high performing students, no matter their socio-economic status.  Many graduates have gone on to be health care providers, educators, and community organizers.  Last week, former President Bill Clinton and UN Secretary General Ban Ki-Moon visited the HELP Haiti Center.  Both Clinton and Ki-Moon said they were impressed and inspired by what they saw at HELP and pledged to remain engaged.  As Clinton put it, programs such as this one show success is possible in Haiti.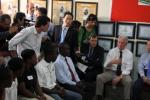 Clinton and Ki-Moon's visit to Haiti received extensive coverage in the international press.  Articles appeared in the Miami Herald, the Voice of America, and the BBC.  Take a look at the HELP Haiti website. It contains a number of stories of students, who would not otherwise have been able to go to university, excelling and making a difference for their communities and country. You can also read about Haiti, how HELP makes scholarships available, and read newsletters.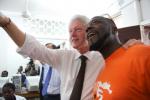 As with many other NGOs, the global economic slowdown has made fundraising even more challenging.  Hopefully, this visit will generate more resources over the long term, allowing HELP to make higher education possible for Haiti's brightest and most dedicated students.  If you would like to support HELP, you can make a financial contribution on their website.  
Thanks!
Bryan